CoolSculpting®

CoolSculpting® is Copeland Cosmetic Surgery's newest non-surgical treatment that can reduce fat and recontour your body. By targeting the body's fat cells with a technique called Cryolipolysis™, CoolSculpting® allows your natural metabolic processes to remove the targeted fat cells over the course of two to four months. This treatment may be a good option for patients who are at or near their ideal weight and lead a healthy lifestyle, but have pockets of excess fat that are resistant to diet and exercise. Our board-certified plastic surgeon, Dr. Jeffrey Copeland, can use CoolSculpting® to eliminate targeted fat cells without causing auxiliary damage to the surrounding tissue.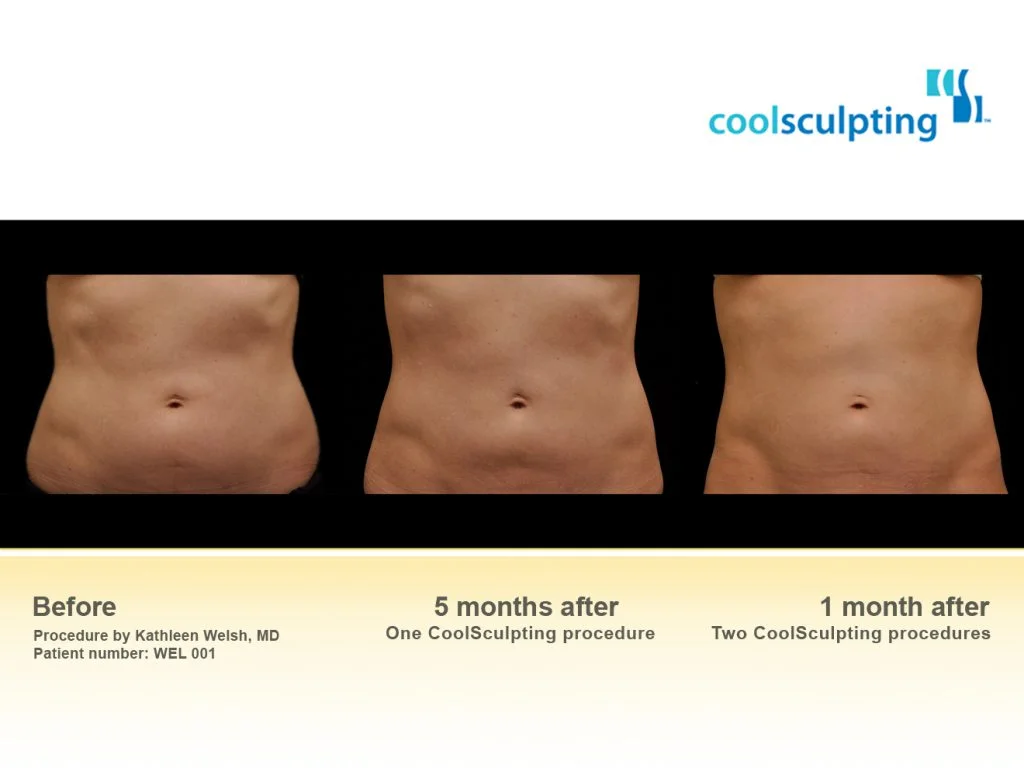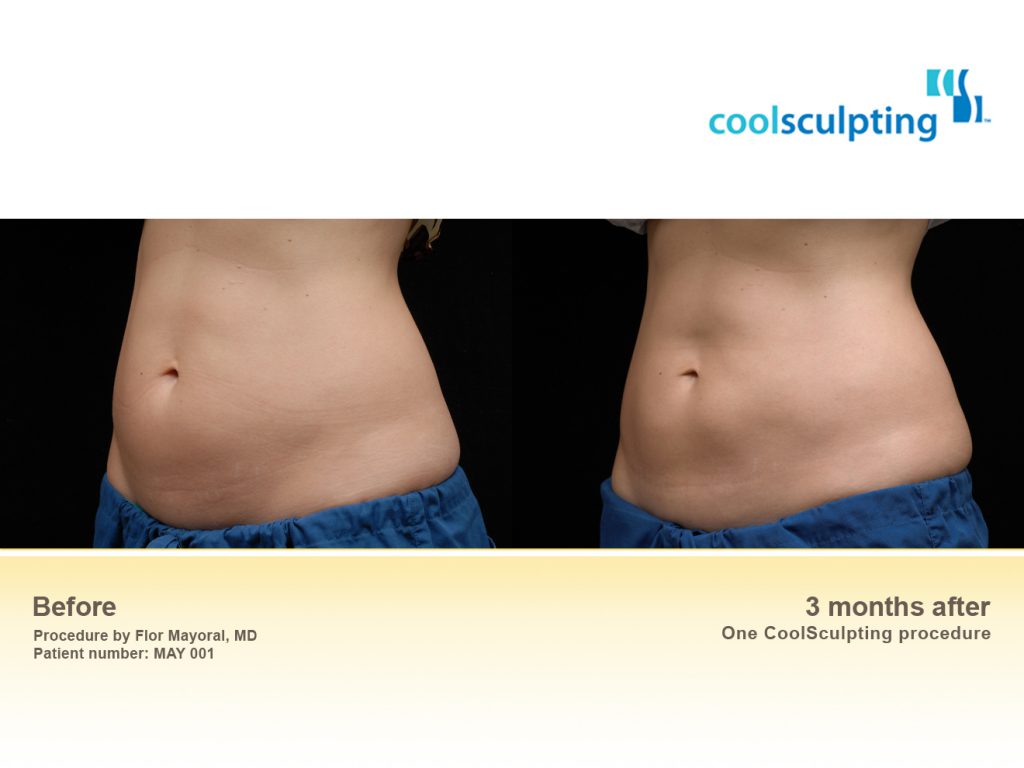 What Is CoolSculpting®?
CoolSculpting® is a non-invasive alternative to traditional fat-eliminating procedures, such as liposuction. Men and women can benefit from CoolSculpting® treatment to address problem areas that are resistant to diet and exercise. As an FDA-cleared form of fat reduction, CoolSculpting® treatment targets stubborn fatty tissue, and the patented process freezes and damages excess fat cells. The body can then eliminate the damaged fat cells from the body over a period of several weeks. Most patients are able to see a noticeable difference in their body in about two to four months after treatment. CoolSculpting® generally does not require any downtime, and patients usually return quickly to their normal daily routine after leaving our office.
What Are the Benefits of CoolSculpting®?
Not being able to get rid of stubborn pockets of fat can be extremely frustrating and can negatively affect a person's self-esteem. Most patients find that they benefit from CoolSculpting® not only physically, but mentally as well. Advantages of CoolSculpting® treatment include:
Non-surgical fat reduction
Minimal pain or discomfort
Biologically natural expulsion of fat
Able to treat multiple areas of the body
No major downtime or recovery necessary
Natural-looking outcomes
Increase in self-confidence
How Does CoolSculpting® Work?
CoolSculpting® uses Cryolipolysis™ technology to send extremely cold temperatures to fat cells, allowing them to "freeze" without harming the surrounding skin and tissue. The body's natural metabolic processes eliminate the damaged fat cells, gradually contouring the treated body areas over time. With this method, fat reduction can be accomplished without any needles, surgery, or major downtime.
Who Is a Candidate for CoolSculpting®?
CoolSculpting® can benefit individuals who have realistic expectations about fat reduction and what this procedure can accomplish. This option is not intended to be a weight loss treatment. With that said, patients who are at or near their goal weight and simply need extra help removing stubborn areas of fat may be excellent candidates for CoolSculpting®. Individuals with good skin elasticity are often ideal candidates, as well. If you find that you have loose skin, other body contouring procedures—such as tummy tuck surgery or arm lift surgery—may provide better options for addressing areas with both excess skin and fat. To help ensure that you are a right fit for treatment, Dr. Copeland will review your medical history during your consultation to check that your overall health is good, and will evaluate your concerns to determine whether CoolSculpting® is an ideal solution for your goals.
What Areas Can CoolSculpting® Treat?
CoolSculpting® can effectively address exercise- and diet-resistant fat in different areas of the body, including:
Abdomen
Thighs
Love handles (flanks)
Hips
Lower back
Upper arms
Armpits
Mid-back (bra area)
Inner knees
Neck
CoolSculpting® Applicators
CoolAdvantage™. The CoolAdvantage™ applicator is known to increase comfort and cut treatment time in half. It is able to freeze targeted fatty tissue at a lower temperature, which speeds up the session time.
CoolAdvantage Plus™. This applicator works best on pinchable, larger areas of fat and can be used for multiple sections of the body. Treatment time with the CoolAdvantage Plus™ can be between 35 to 45 minutes.
CoolFit Advantage™. The CoolFit Advantage™ applicator can treat longer areas of fat, including the inner thighs, abdomen, and arms. Treatment usually takes 35 minutes with the newest version of the CoolFit Advantage™ applicator.
CoolMini™. This applicator is designed to address pockets of stubborn fat in small areas of the body, such as under the chin, on the neck, anterior bra fat, above the knees, and above the belly button. It is mostly used to treat lax skin in the submental area, also known as a "double chin". Treatment time can last up to 45 minutes with the CoolMini™ applicator.
What Happens During CoolSculpting® Treatment?
CoolSculpting® treatment can last between 35 to 60 minutes per session. The amount of time usually depends on the size and the number of areas being treated. During your consultation, our team can help determine which region(s) of the body can be addressed to deliver optimal results.
To begin the process, a clear gel pad is placed on the treatment area so that the CoolSculpting® applicator never directly touches the skin. Next, the CoolSculpting® device is pressed against the targeted region and suction is applied. Patients may experience a tug and pull sensation as the tissue is drawn into the applicator. Then, cooling energy is delivered to the tissue and the treatment area eventually goes numb. Patients can relax during the remainder of the session by watching a movie, browsing the internet, or even sleeping. Immediately following your treatment, the area will be massaged to help break up the frozen fat cells. Over a period of several weeks, the damaged fat cells will leave the body via natural metabolic processes. There is little to no downtime for CoolSculpting® treatment, so patients often go back to their normal daily activities after their session.
What Is Recovery After CoolSculpting® Like?
Most patients return to their normal routine after leaving our office since treatment requires no downtime. Occasionally, patients may experience some discomfort or bruising following a CoolSculpting® session, but these effects should fade in the next couple of days following treatment. Over-the-counter pain medications can typically help alleviate any discomfort you may experience.
What Results Can I Expect from CoolSculpting®?
CoolSculpting® can eliminate up to 20% or more of the targeted fat. Some patients can achieve their aesthetic goals in one session, but others may require additional treatments for the best results. During your consultation, Dr. Copeland will go over how many sessions you may need to achieve your desired look. Most patients are able to see noticeable fat reduction in about two to four months after treatment. Since the body gradually filters out the damaged fat cells, the outcomes typically continue to improve over the next few months. CoolSculpting® is designed to permanently destroy excess fat cells; therefore, results can be long-lasting as long as the patient adopts a healthy lifestyle and maintains a stable weight.
How Much Does CoolSculpting® Cost?
At Copeland Cosmetic Surgery, CoolSculpting® treatments generally cost between $750 and $3,800. The price for customized CoolSculpting® treatment can depend on a variety of factors, including:
The number of treatment areas
The size of the targeted regions
The number of treatment sessions
Our practice accepts a wide range of payment methods, including major credit cards. We also partner with CareCredit®, which is a reputable third-party lending company that provides qualified applicants the option to pay in smaller installments with low- to no- interest rates. If you would like to learn more about our CoolSculpting® financing options, feel free to call our practice and a member of our team will be happy to assist you.
As with any of our procedures, Dr. Copeland will take a thorough medical history prior to your treatment to ensure CoolSculpting® will meet your expectations. Please contact our practice today to set up your CoolSculpting® consultation.