Brachioplasty (Arm Lift)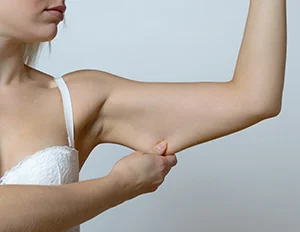 One of the common complaints of women as they mature is loss of tone in the muscle and soft tissue of the upper arm. This area has a tendency to accumulate fat and to droop much more than the forearm. Laxity of the skin in this region can also be an issue with patients who have lost significant amounts of weight. The abundance of stretched skin allows the upper arm to move back and forth during activity and, at worst, to swing freely or to move with the wind. This can cause problems with the way clothing fits and with physical activities either with embarrassment, or with functional problems. Occasionally, this problem can be addressed by liposuction alone, but often it is best treated with a procedure called a brachioplasty (or arm lift) performed by Dr. Jeffrey Copeland.
What Is Brachioplasty?
Brachioplasty is a plastic surgery procedure designed to resculpt and tighten arms with excess loose skin and fat that causes a droopy, stretched appearance. Whether the overabundant tissue is the result of aging, dramatic weight fluctuations, or other factors, skin and fat can be precisely trimmed from the upper arm with an arm lift. Liposuction techniques may also be utilized during the procedure to contour remaining fat for an optimal result. When all skin and fat has been removed, the incision is closed to create a smoother, tighter upper arm. The incision is typically placed along inside of the upper arm or along the bottom of the upper arm.
Who Is a Good Candidate for Arm Lift Surgery?
Candidates for arm lift surgery are men and women in good overall health who are bothered by loose, inelastic skin and excess fat tissue in the upper arm region—aesthetic concerns that cannot be improved with changes in diet and exercise. Commonly, the arm lift procedure is included in post weight loss body contouring plans, and candidates should be at or near a stable weight. Aging of the skin and tissue, significant weight fluctuation, skin stretching, and/or genetic predisposition often contribute to the desire for arm lift surgery to create firmer, tighter, more sculpted arms.
To determine if you are a candidate for arm lift surgery, a consultation with Dr. Copeland is necessary. During this appointment, he will be able to review your medical history, examine your arms, discuss your concerns, and determine if arm lift surgery is the right approach for achieving an optimal outcome. In the event you are a candidate for brachioplasty, Dr. Copeland will explain the procedure step-by-step and develop a customized surgical plan based on your unique needs and goals.
How Is the Arm Lift Procedure Performed?
Arm lift surgery is performed under general anesthesia and may be combined into a single operation with other body contouring treatments. During the arm lift procedure, the excess skin and subcutaneous tissue is removed surgically. Frequently, liposuction is used to help precisely sculpt and remove fat tissue. Once all excess fat and skin has been removed, the incision is carefully closed. The incision can be placed either on the inner aspect of the arm, or at the lower or posterior margin of the arm. This decision is made between you and Dr. Copeland to best satisfy your needs and desires.
What Is Arm Lift Recovery Like?
Brachioplasty is typically done on an outpatient basis, but it may be followed by hospitalization if it is performed at the same time as other body contouring procedures. After surgery you should expect some soreness, swelling, bruising, and discomfort; however, pain medication can be used as prescribed to provide effective relief as needed. A compression dressing is usually worn for several days after the procedure to aid in proper healing. Typically, patients allow themselves one to two weeks to rest and recover at home before returning to work.
What Are the Results of Arm Lift Surgery?
The arm lift procedure is very successful at getting rid of the offending extra tissue and its unsatisfactory appearance and behavior. Following healing, most patients report satisfaction with the improved appearance of their arms and fit of their clothes. The absence of bothersome arm motion is also a huge benefit for many patients.
Will I Have Noticeable Arm Lift Scars?
The most common worry about the brachioplasty procedure is the presence of visible scars; however, with proper postoperative incision care and time for scar tissue to mature, scar tissue can become relatively inconspicuous. Even with visible scars, the majority of patients who undergo arm lift surgery are usually so satisfied with the new shape of their arms that they would choose to do the procedure again.
How Much Does an Arm Lift Cost?
At Copeland Cosmetic Surgery, the average price for arm lift surgery – including hospital and anesthesiology fees – is usually between $10,300 and $11,400. The overall cost for your procedure (which could potentially be higher or lower than our average range) depends on your specific surgical plan. The details of your proposed surgery can be calculated into an accurate estimate at the end of a personal consultation with Dr. Copeland. Several factors must be considered to determine pricing:
The proposed technique(s) to accomplish the lift
The complexity of the procedure
Any additional procedures being performed in conjunction with arm lift surgery
Cost for post-surgical compression garments
Any medication costs
In some extreme cases, insurance may cover all or a portion of your arm lift procedure if it is deemed medically necessary. Our office team can review your insurance plan, help you submit the appropriate forms, and ultimately outline your out-of-pocket financial responsibilities. To help make the price of treatment more budget-friendly for our patients, we accept major credit cards and can provide information about third-party lenders who offer plastic surgery financing options to qualified applicants. We are always available to answer any questions you have about insurance, costs, payment methods, and financing.
Contact our practice today to schedule your consultation with Dr. Jeffrey Copeland.