Post-Bariatric Body Contouring (Post-Weight Loss)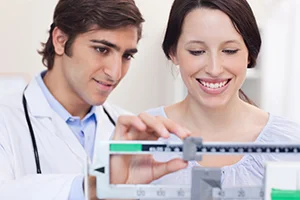 In an effort to reduce serious health consequences associated with obesity and improve quality-of-life, many individuals are turning to weight loss procedures. This is a trend that shows a steady increase over time, and new, less-invasive techniques, such as the LAP-BAND® procedure, are becoming more common every year. As a result, there are many people who have attained significant weight loss, but who cannot tighten the skin stretched by years of obesity. The only way to deal with this type of stretched, excess skin is to remove it surgically.
Surgical removal of redundant skin from the body can be accomplished with a variety of customized body contouring procedures. Each procedure is specific to a certain region of the body and offers a smoother, tighter figure as well as the reduction/elimination of functional impediments and dermatological challenges caused by the presence of excess skin.
What Post-Bariatric Body Contouring Procedures Are Available?
The technical term for post-bariatric body contouring procedures is dermolipectomy. In patients with massive weight loss, several specific types of reduction are used, including:
Lower body lift
Trunkplasty
Upper body lift
Breast lift (mastopexy)
These procedures all remove skin and subcutaneous fat with techniques that attempt to place incisions in hard-to-see locations, and aim to provide as natural an appearance as possible. Some of the procedures include the use of liposuction to help reduce fat in areas where it cannot be directly excised. It is important to know that patients must have a BMI of less than 35 to qualify for post-bariatric body contouring treatments.
Generally speaking, these operations are successful because they are direct approaches to resolving unsatisfactory body contours. They are understood as a trade-off between the presence of scars and major improvements in the contours of one's body.
Lower body lift surgery is less known than some of the other procedures. It includes liposuction of the thighs, loosening of the thigh skin, and removal of a belt of skin and underlying fat from around the entire waist. This is followed by pulling up on the thigh skin, so that closure improves the contours of both the thighs and the trunk. Upper body lift surgery may be an extension of a breast reduction (or lift) in females, and of breast tissue removal (gynecomastia treatment) in males.
What Is Recovery Like for Post-Weight Loss Body Contouring?
The magnitude of several combined post-weight loss body contouring procedures dictates that patients typically stay in the hospital for a day or more after the operation. Each individual's recovery is largely dependent on how many procedures are performed, the details of his or her surgical plan, and the unique rate at which healing takes place. During the consultation, Dr. Copeland can provide general estimates on how long you can expect to be absent from work and an overview of the various phases of recovery. While the recovery process for extensive post-weight loss body contouring can be challenging, the investment in time and effort pays off in a dramatically improved body shape. Additionally, health problems and inconveniences caused by excess skin are usually less of an issue.
Is Plastic Surgery After Weight Loss Covered By Insurance?
Many medical insurance companies offer plans that cover all or a portion of medically necessary post-weight loss body contouring procedures. Our office is very knowledgeable about this type of coverage and the process required for receiving approval for medically necessary plastic surgery procedures. No matter where you are in the process, our team can provide the helpful guidance you need to obtain the answers you are looking for. Our aim is to simplify your journey and do all we can to assist you in achieving your goals.
How Much Does Plastic Surgery After Weight Loss Cost?
The price of post-weight loss body contouring procedures varies among patients based on the customized treatment plan.
The overall cost for post-weight loss body contouring depends on a variety of factors:
Which procedures are included in your surgical plan
The complexity of the procedures
The volume of excess skin and fat that must be removed
Whether multiple operations are required to complete all of the proposed procedures
How much of the cost is covered by your medical insurance company
Anesthesiology fees
Costs for hospital stays and operating room fees
Costs for post-surgical garments
While determining an estimate for your total surgical plan may seem complicated, our team has extensive experience in this process and can provide you with a quote following your consultation with Dr. Copeland. In some cases, it may take a little time to find out how much your insurance company is willing to pay for your surgery. We will always be upfront about your out-of-pocket costs and can discuss available payment methods and third-party financing options that can help make paying for your treatment more affordable. Plastic surgery financing is available to approved applicants, and our team can help explain the process of applying with our lending partners.
We request that you prepare a list of your goals and concerns for use during your consultation.
These operations are among the most gratifying that Dr. Copeland performs because they make such a difference in each patient's life.
Contact our practice today to schedule your consultation with Dr. Copeland.