Post-Bariatric Body Contouring (Post-Weight Loss)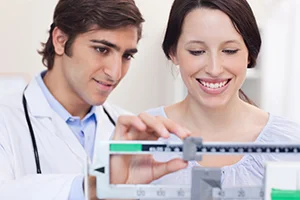 As the US population continues its trend toward more and more obesity, many people turn to weight loss procedures. This is a trend that shows a steady increase over time, and new, less-invasive techniques, such as the lap band, are becoming more common every year. As a result, there are many people who have attained a significant weight loss, but who cannot tighten the skin stretched by years of obesity.
The only way to deal with this type of stretched, excess skin is to remove it. The technical term for this type of procedure is dermolipectomy, but in patients with massive weight loss several specific types of reduction are used, including abdominoplasty, lower body lift, thigh lift, trunk plasty, upper body lift, breast lift (mastopexy), and others. These procedures all remove skin and subcutaneous fat with techniques that attempt to place incisions in hard-to-see locations, and aim to provide as natural an appearance as possible. Some of the procedures include the use of liposuction to help reduce fat in areas where it cannot be directly excised.
Generally speaking, these operations are successful because they are direct approaches to resolving unsatisfactory body contours. They are understood as a trade-off between the presence of scars and major improvements in the contours of one's body. Lower body lift is less known than some of the other procedures. It includes liposuction of the thighs, loosening of the thigh skin, and removal of a belt of skin and underlying fat from around the entire waist. This is followed by pulling up on the thigh skin, so that closure improves the contours of both the thighs and the trunk. Upper body lift may be an extension of a breast reduction (or lift) in females, and of breast tissue removal (gynecomastia treatment) in males. The magnitude of these operations dictates that patients typically stay in the hospital for a day or more after the procedure. The investment in time and effort pays off with a better body shape.
These operations are among the most gratifying that Dr. Copeland performs because they make such a difference in each patient's life.
Contact our practice today to schedule your consultation.