Male Procedures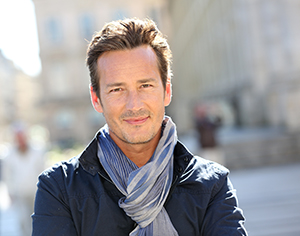 At Copeland Cosmetic Surgery, the number of men wanting to improve their appearance and reverse common signs of age with aesthetic procedures continues to increase. As men grow older, the body often starts to store fat differently, lines and wrinkles may develop on the face, and years of sun exposure or environmental damage typically begin to show. Thankfully, many of the cosmetic procedures enjoyed by our female patients can be customized to meet the unique needs of our male patients as well.
Dr. Jeffrey Copeland believes the key to successful male procedures is to attain the right balance between cosmetic enhancement and preservation of a masculine aesthetic.
During the consultation process, Dr. Copeland thoroughly discusses your personal cosmetic concerns and goals. Using this information, he can then design a customized treatment plan that can meet your expectations.
To learn about procedures that can be specifically tailored to achieve the unique needs of our male patients, read about our offerings below. If you would like to schedule a consultation with Dr. Copeland, please contact our office today.
BOTOX® Cosmetic
BOTOX® Cosmetic is a non-surgical injectable treatment designed to smooth the appearance of facial lines and wrinkles by relaxing the contracting muscles. Since men typically have thicker facial skin than women, BOTOX® Cosmetic treatments must be adjusted accordingly. Oftentimes, male patients require larger doses of BOTOX® Cosmetic to achieve similar results as women. However, Dr. Copeland also takes into account the desired shape of the eyebrows, which can ensure that men retain a straighter, more masculine brow line compared to the arch that women usually desire.
Learn more about BOTOX® Cosmetic.
Dermal Fillers
Dermal fillers are injectables designed to restore lost volume to facial features such as the areas around the eyes or mouth, diminishing the appearance of creases and lines in the process. JUVÉDERM® is a commonly used hyaluronic acid-based dermal filler that can treat deep facial wrinkles. New fillers are developed frequently, so it is important to seek the attention of knowledgeable injectors to receive the most up-to-date treatment. When planning customized treatment plans for men, Dr. Copeland uses his in-depth knowledge of facial aesthetics to achieve results that appear natural without looking overdone.
Learn more about dermal fillers.
Short Scar Facelift
Men often report that deep creases caused by excess or sagging skin make them feel older than their actual age. With a short scar facelift, Dr. Copeland can rejuvenate the appearance of the face for a well-rested, youthful look. The short scar facelift can also be used to address lax muscles in the face or neck. This minimally invasive surgery has a relatively short recovery time, making it a popular choice among our patients.
Learn more about short scar facelift.
Otoplasty
Otoplasty is a surgery designed to reposition ears that protrude noticeably from the head. This procedure can also effectively resize or reshape overly large or malformed ears. Though often performed on children or teens, many adult men also opt to undergo this procedure to improve facial harmony.
Learn more about otoplasty.
Abdominoplasty
Even men who are active and eat a nutritious diet can develop excess skin that begins to sag at the waist. Isolated fat deposits may also begin to accumulate and prove resistant to exercise efforts. With abdominoplasty, more commonly referred to as a tummy tuck, excess abdominal skin and fat can be removed and the underlying musculature tightened for a flatter, more toned appearance.
Learn more about tummy tuck.
Liposuction
Liposuction is a versatile procedure that can be used to remove excess fat from nearly any area of the body. Men typically choose liposuction to target fat deposits in areas such as the abdomen, flanks (love handles), back, chest, or neck. Oftentimes, men who exercise regularly and eat a healthy diet find that their muscles show more prominently once the top layer of fat is removed with liposuction.
Learn more about liposuction.
CoolSculpting®
CoolSculpting® is a non-surgical alternative to liposuction for men with minimal fat deposits that resist traditional methods of weight loss. This innovative treatment targets and freezes excess fat cells to achieve a more contoured, athletic-looking figure. Men typically choose CoolSculpting® to address areas like the lower abdomen, upper abdomen, flanks (love handles), or thighs.
Learn more about CoolSculpting®.
CO2 Fractional Laser
With a fractional CO2 laser, Dr. Copeland can rejuvenate the appearance of the skin for a healthier, more youthful complexion. Common skin concerns that can be addressed with laser skin resurfacing include sun damage, fine lines and wrinkles, hyperpigmentation, prominent scars, uneven skin tone or texture, and overly large pores. The fractional CO2 laser can even be used to improve skin elasticity.
Learn more about laser skin resurfacing.