Can I Get a Flat Stomach After Having Children?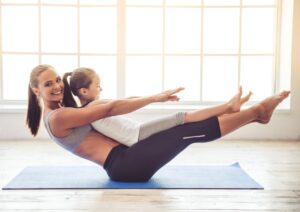 As beautiful and rewarding as motherhood can be, the effects of childbirth on the body are often difficult to remove. For instance, excess amounts of loose skin on the abdomen are a common concern for moms, and it can be especially frustrating when the extra skin and tissue won't diminish even with a healthy diet and strenuous exercise. In addition, pregnancy can stretch the skin on the abdomen and tear or damage the abdominal muscles. Thankfully, we offer surgical treatments to help hard-working moms – as well as other eligible patients – achieve the flat, aesthetically-pleasing midsection they've dreamt of for years.
Our comprehensive mommy makeover treatment can address multiple aesthetic concerns at once in different areas of the body, ranging from the stomach to the breasts to the face. The process begins with a consultation with our St. Peters plastic surgeon, Jeffrey Copeland, M.D., F.A.C.S., who will develop a treatment plan according to your needs and cosmetic desires. For your mommy makeover, Dr. Copeland may recommend procedures like breast augmentation to restore volume to the breasts, liposuction to remove fatty deposits and reduce the appearance of "saddlebags," or other cosmetic solutions that can help restore your body to its pre-pregnancy state.
Many of our patients choose to incorporate a tummy tuck, or abdominoplasty, into their mommy makeover treatment. This surgical procedure can address many of the typical after-effects of childbirth in the abdomen, including excess or stretched skin, unwanted fat, and loosened muscles. During the tummy tuck procedure, loose skin can be excised, weakened muscles can be tightened, and remaining skin can be re-draped to create a firmer, more sculpted look. Liposuction is sometimes incorporated into the treatment for optimal fat-reducing results.
Dr. Copeland has extensive experience in various body contouring procedures and surgical techniques that can help mothers and other qualified candidates achieve their dream body. For more information about our mommy makeover and tummy tuck procedures, feel free to contact us today.