St. Louis Plastic Surgeon Explores Potential of Post-Weight Loss Body Contouring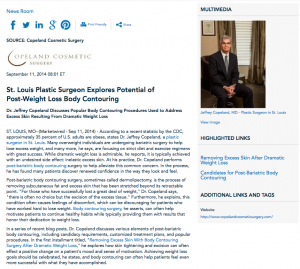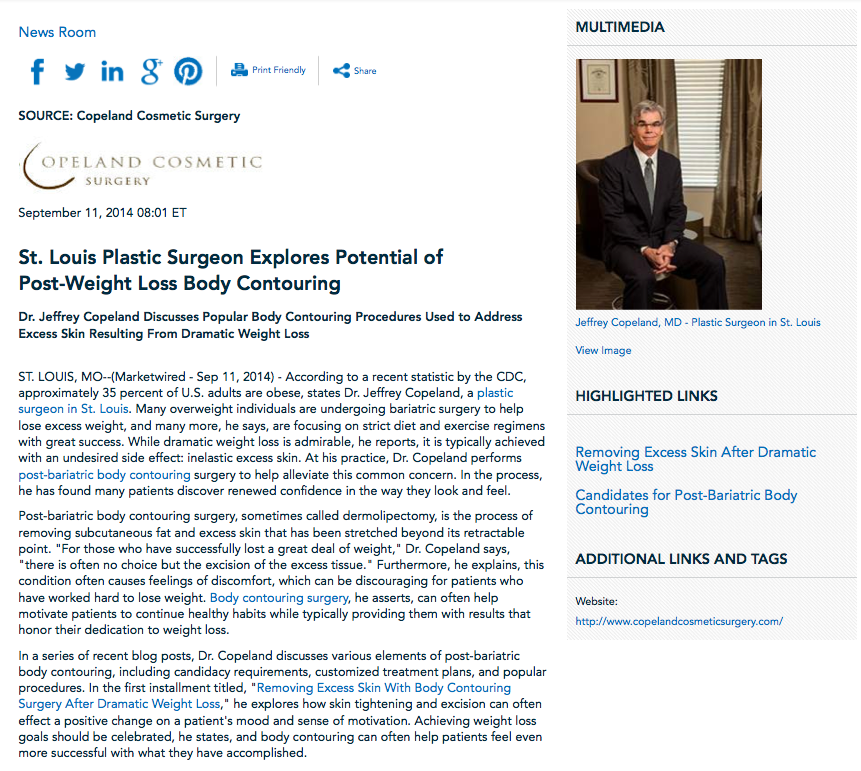 Dr. Jeffrey Copeland discusses popular body contouring procedures used to address excess skin resulting from dramatic weight loss.
St. Louis, MO — According to a recent statistic by the CDC, approximately 35 percent of U.S. adults are obese, states Dr. Jeffrey Copeland, a plastic surgeon in St. Louis. Many overweight individuals are undergoing bariatric surgery to help lose excess weight, and many more, he says, are focusing on strict diet and exercise regimens with great success. While dramatic weight loss is admirable, he reports, it is typically achieved with an undesired side effect: inelastic excess skin. At his practice, Dr. Copeland performs post-bariatric body contouring surgery to help alleviate this common concern. In the process, he has found many patients discover renewed confidence in the way they look and feel.
Post-bariatric body contouring surgery, sometimes called dermolipectomy, is the process of removing subcutaneous fat and excess skin that has been stretched beyond its retractable point. "For those who have successfully lost a great deal of weight," Dr. Copeland says, "there is often no choice but the excision of the excess tissue." Furthermore, he explains, this condition often causes feelings of discomfort, which can be discouraging for patients who have worked hard to lose weight. Body contouring surgery, he asserts, can often help motivate patients to continue healthy habits while typically providing them with results that honor their dedication to weight loss.
In a series of recent blog posts, Dr. Copeland discusses various elements of post-bariatric body contouring, including candidacy requirements, customized treatment plans, and popular procedures. In the first installment titled, "Removing Excess Skin With Body Contouring Surgery After Dramatic Weight Loss," he explores how skin tightening and excision can often effect a positive change on a patient's mood and sense of motivation. Achieving weight loss goals should be celebrated, he states, and body contouring can often help patients feel even more successful with what they have accomplished.
In the second post titled, "Determining Candidacy For Post-Bariatric Body Contouring," Dr. Copeland details some of the criteria he evaluates before performing surgery. His body contouring considerations include:
Consent of the patient's primary doctor
Review of health history
Examination by an anesthesiologist
Clearance from any relevant specialists
In the final installment titled, "Developing a Post-Bariatric Body Contouring Treatment Plan," Dr. Copeland lists popular body contouring procedures and discusses the methodology behind an effective multi-treatment plan. He explains, "…depending on the patient's goals, some procedures are better done first or in a general order to produce the best, most lasting results with the least risk." He also prioritizes areas that will likely provide the most satisfaction for patients eager to enjoy the benefits of substantial weight loss. Common body contouring procedures include:
Tummy tuck (abdominoplasty)
Breast lift (mastopexy)
Face lift
Arm lift (brachioplasty)
Thigh lift
Gynecomastia surgery (male breast tissue reduction)
Recognizing the dedication required for dramatic weight loss, Dr. Copeland wishes to provide patients with an opportunity to maintain long-term well-being and positivity with body contouring treatments. He notes, "Procedures of that nature are difficult, but among the most personally rewarding to me, as the patients are on a long course of improving themselves and usually quite motivated and appreciative."
About Jeffrey Copeland, MD
Dr. Copeland earned his undergraduate and medical degrees at the University of Missouri, Columbia, where he also completed residencies in general surgery and plastic surgery before completing a fellowship in microvascular surgery. During his time at MU, he was named chief resident in both general and plastic surgery. In 2005, Dr. Copeland founded Copeland Cosmetic Surgery, concentrating on facial, body, and breast surgery. Throughout his medical career he has held positions in several distinguished organizations, including being president of the St. Charles-Lincoln County Medical Society, chief of staff at St. Joseph Health Center, and president of Plastic Surgery Consultants, Ltd. He is currently President of the Missouri State Medical Association. In addition to maintaining his practice, he is on the medical staff at all local St. Louis and St. Peters hospitals. Dr. Copeland is available for interview upon request.
For more information about Copeland Cosmetic Surgery, please visit copelandcosmeticsurgery.com and facebook.com/copelandcosmeticsurgery.
Contact:
Copeland Cosmetic Surgery
Richmond Center Ct. Ste. 2
St. Peters, MO 63376
(866) 377-0288
Rosemont Media
[email protected]
(858) 200-0044
www.rosemontmedia.com