St. Louis Plastic Surgeon Uses Keller Funnel for Safer Breast Augmentation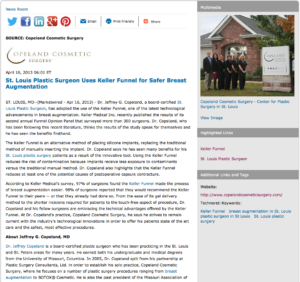 St. Louis, MO – Dr. Jeffrey G. Copeland, a board-certified St. Louis Plastic Surgeon, has adopted the use of the Keller Funnel, one of the latest technological advancements in breast augmentation. Keller Medical Inc. recently published the results of its second annual Funnel Opinion Panel that surveyed more than 300 surgeons. Dr. Copeland, who has been following this recent literature, thinks the results of the study speak for themselves and he has seen the benefits firsthand.
The Keller Funnel is an alternative method of placing silicone implants, replacing the traditional method of manually inserting the implant. Dr. Copeland says he has seen many benefits for his St. Louis plastic surgery patients as a result of the innovative tool. Using the Keller Funnel reduces the risk of contamination because implants receive less exposure to contaminants versus the traditional manual method. Dr. Copeland also highlights that the Keller Funnel reduces at least one of the potential causes of postoperative capsule contracture.
According to Keller Medical's survey, 97% of surgeons found the Keller Funnel made the process of breast augmentation easier. 98% of surgeons reported that they would recommend the Keller Funnel to their peers – or that they already had done so. From the ease of its gel delivery method to the shorter incisions required for patients to the touch-free aspect of procedure, Dr. Copeland and his fellow surgeons are embracing the technical advantages offered by the Keller Funnel. At Dr. Copeland's practice, Copeland Cosmetic Surgery, he says he strives to remain current with the industry's technological innovations in order to offer his patients state of the art care and the safest, most effective procedures.
About Jeffrey G. Copeland, MD
Dr. Jeffrey Copeland is a board-certified plastic surgeon who has been practicing in the St. Louis and St. Peters areas for many years. He earned both his undergraduate and medical degrees from the University of Missouri, Columbia. In 2005, Dr. Copeland split from his partnership at Plastic Surgery Consultants, Ltd. in order to establish his solo practice, Copeland Cosmetic Surgery, where he focuses on a number of plastic surgery procedures ranging from breast augmentation to BOTOX® Cosmetic. He is also the past president of the Missouri Association of Plastic and Reconstructive Surgeons, past board chairman of Primaris (the Missouri Quality Improvement Organization), and a member of many other prestigious medical organizations.
To contact Copeland Cosmetic Surgery, visit their website at copelandcosmeticsurgery.com or call 866-377-0288. The center's office is located at #2 Richmond Center Court, St. Peters, MO 63376. The center's Facebook page can be found at facebook.com/copelandcosmeticsurgery.
Contact:
Rosemont Media
[email protected]
(858) 200-0044
www.rosemontmedia.com