Less Invasive, More Cost Effective Facelift with Copeland Cosmetic Surgery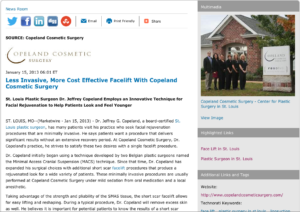 St. Louis plastic surgeon Dr. Jeffrey Copeland employs an innovative technique for facial rejuvenation to help patients look and feel younger.
St. Louis, MO – Dr. Jeffrey G. Copeland, a board-certified St. Louis plastic surgeon, has many patients visit his practice who seek facial rejuvenation procedures that are minimally invasive. He says patients want a procedure that delivers significant results without an extensive recovery period. At Copeland Cosmetic Surgery, Dr. Copeland's practice, he strives to satisfy these two desires with a single facelift procedure.
Dr. Copeland initially began using a technique developed by two Belgian plastic surgeons named the Minimal Access Cranial Suspension (MACS) technique. Since that time, Dr. Copeland has expanded his surgical choices with additional short scar facelift procedures that produce a rejuvenated look for a wide variety of patients. These minimally invasive procedures are usually performed at Copeland Cosmetic Surgery under mild sedation from oral medication and a local anesthetic.
Taking advantage of the strength and pliability of the SMAS tissue, the short scar facelift allows for easy lifting and reshaping. During a typical procedure, Dr. Copeland will remove excess skin as well. He believes it is important for potential patients to know the results of a short scar facelift procedure cannot be obtained through non-surgical means because the procedure provides the kind of results that can only be obtained with an operation, in contrast to techniques like light therapy, laser resurfacing, and radio-frequency treatments.
Short scar facelift procedures usually last for a duration of two to three and a half hours, depending on the needs of the patient. Dr. Copeland's St. Louis plastic surgery patients typically go home shortly after the procedure for optimal rest and most patients report little pain after the procedure. Dr. Copeland says that many patients resume their usual activities within a few days, aside from vigorous physical activity.
Dr. Copeland also notes that short scar facelifts are gaining popularity as patients seek facial rejuvenation that is both effective and reasonably priced. The minimally invasive nature of the procedure lowers the likelihood of complications. At his St. Louis practice, Dr. Copeland says many patients are surprised by the ease of the procedure and some patients are now opting to combine short scar facelifts with liposuction of the neck or direct tightening of the muscles of the neck, known as platysmaplasty.
About Jeffrey G. Copeland, MD
Dr. Jeffrey Copeland is a board-certified plastic surgeon who has been practicing in the St. Louis and St. Charles County areas for many years. He is a graduate of the University of Missouri, Columbia, and during his time there he earned both his undergraduate degree in premedical science and his medical degree. He continued his studies at the University of Missouri, Columbia where he completed residencies in general and plastic surgery and served as chief resident. He also completed a fellowship in microvascular surgery. Dr. Copeland has served as president of the St. Charles-Lincoln County Medical Society, chief of staff at St. Joseph Health Center/Hospital West, Barnes Jewish St. Peters Hospital, and president of Plastic Surgery Consultants, Ltd. He is past board chairman of Primaris (the Missouri Quality Improvement Organization), past president of the Missouri Association of Plastic and Reconstructive Surgeons, past chairman of the council of the Missouri State Medical Association, and a former member of the Board of Directors of the St. Louis Crisis Nursery.
To contact Copeland Cosmetic Surgery, visit their website at copelandcosmeticsurgery.com or call 866-377-0288. The center's office is located at #2 Richmond Center Court, St. Peters, MO 63376. The center's Facebook page can be found at facebook.com/copelandcosmeticsurgery.
###
Rosemont Media
[email protected]
(858) 200-0044
www.rosemontmedia.com