Choosing the Right Breast Implant Size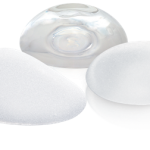 This is part two in our breast augmentation blog series. Read part one of our series, "What Should I Expect During A Breast Augmentation Consultation?" for more information on the first step in the treatment process.
When choosing your breast implant size, it's important to keep in mind that implant sizes do not correspond to traditional bra cup sizes. Rather, breast implants are measured in cubic centimeters, commonly referred to as cc's. The larger the implant, the higher volume of cc's it will be. In order for a patient to choose the size most complimentary for her physique, several factors should be considered, such as the breasts' relationship to the chest wall, the width of the breasts, and the amount of breast tissue.
"Patients realize that they are making a decision with long-term effects, so they are careful to pick out what looks the best to them," says our board-certified plastic surgeon, Dr. Jeffrey Copeland. "Some are concerned that an implant that is too large will make the breast look unnatural, or that it will be obvious they have had augmentation. Occasionally, the patient is concerned that their choice may be too small."
Implant size is a very individualized choice, and something patients should not be shy about says Dr. Copeland. "The patient has to live with the implants after the operation, so I think they have the right to, at least, decide on the size-range they desire."
Ultimately, choosing your breast implant size is one of the most important decisions that you and your surgeon will make. Trying on different sizers during your consultation will also be extremely useful in helping you determine which size achieves the look and feel that you desire.
Contact Us
If you would like more information on breast implant sizing or breast augmentation procedures, or if you would like to schedule a consultation with Dr. Copeland, please contact Copeland Cosmetic Surgery today.