Selecting Breast Implant Size: St. Louis Area Plastic Surgeon Explains What to Consider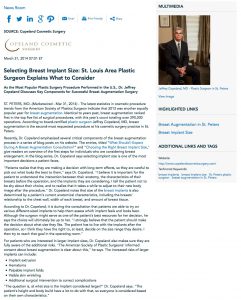 As the most popular plastic surgery procedure performed in the U.S., Dr. Jeffrey Copeland discusses key components for successful breast augmentation surgery.
St. Peters MO – The latest statistics in cosmetic procedure trends from the American Society of Plastics Surgeon indicate that 2013 was another equally popular year for breast augmentation. Identical to years past, breast augmentation ranked first in the top five list of surgical procedures, with this year's count totaling over 290,000 operations. According to board-certified plastic surgeon Jeffrey Copeland, MD, breast augmentation is the second-most requested procedure at his cosmetic surgery practice in St. Peters.
Recently, Dr. Copeland emphasized several critical components of the breast augmentation process in a series of blog posts on his website. The entries, titled "What Should I Expect During A Breast Augmentation Consultation?" and "Choosing the Right Breast Implant Size," give readers an overview of the first steps for individuals who are considering breast enlargement. In the blog series, Dr. Copeland says selecting implant size is one of the most important decisions a patient faces.
"Patients realize that they are making a decision with long-term effects, so they are careful to pick out what looks the best to them," says Dr. Copeland. "I believe it is important for the patient to understand the interaction between their anatomy, the characteristics of their breasts before the operation, and the implants they are considering. I tell the patient not to be shy about their choice, and to realize that it takes a while to adjust to their new body image after the procedure." Dr. Copeland notes that size of the breast implants is also determined by a patient's current anatomical characteristics, including the breasts' relationship to the chest wall, width of each breast, and amount of breast tissue.
According to Dr. Copeland, it is during the consultation that patients are able to try on various different-sized implants to help them assess which implant feels and looks best. Although the surgeon might serve as one of the patient's best resources for her decision, he says the choice will ultimately be up to her. "I strongly believe that the patient should make the decision about what size they like. The patient has to live with the implants after the operation, so I think they have the right to, at least, decide on the size range they desire. I then try to reach that goal in the operating room."
For patients who are interested in larger implant sizes, Dr. Copeland also makes sure they are fully aware of the additional risks. "The American Society of Plastic Surgeons' informed consent about breast augmentation is clear about this," he says. The increased risks of larger implants can include:
Implant extrusion
Hematoma
Palpable implant folds
Visible skin wrinkling
Additional surgical intervention to correct complications
"The question is, at what size is the implant considered larger?" Dr. Copeland says. "The patient's height and body build have a lot to do with that, so everyone is considered based on their own characteristics."
In addition to size, patients will also need to consider implant type and shape, including how much projection the implant has — all of which are important factors a patient must discuss with a qualified surgeon. Dr. Copeland says that with an experienced, board-certified plastic surgeon, the potential for the best possible results is significantly magnified.
About Jeffrey Copeland, M.D.
Dr. Jeffrey Copeland earned his medical degree and completed both his residencies in general and plastic surgery at the University of Missouri-Columbia. Dr. Copeland has over 25 years as a plastic surgeon, and is certified by the American Board of Plastic Surgery. Beginning in April 2014, Dr. Copeland will also serve as the President of the Missouri State Medical Association. Previously, Dr. Copeland served as president of the St. Charles-Lincoln County Medical Society, chief of staff at St. Joseph Health Center, and chief of staff at Barnes Jewish St. Peters Hospital. He is available for interview upon request.
For more information about Copeland Cosmetic Surgery, please visit: copelandcosmeticsurgery.com and facebook.com/copelandcosmeticsurgery.
Contact:
Copeland Cosmetic Surgery
#2 Richmond Center Court
St. Peters, MO 63376
(866) 377-0288
Rosemont Media
[email protected]
(858) 200-0044
www.rosemontmedia.com