St. Louis Plastic Surgeon Adopts New Liposuction Technique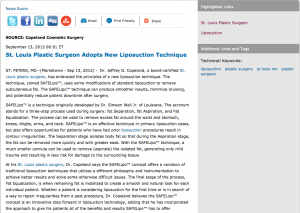 St. Peters, MO – Dr. Jeffrey G. Copeland, a board-certified St. Louis plastic surgeon, has embraced the principles of a new liposuction technique. The technique, coined SAFELipo™, uses some modifications of standard liposuction to remove subcutaneous fat. The SAFELipo™ technique can produce smoother results, minimize bruising, and potentially reduce patient downtime after surgery.
SAFELipo™ is a technique originally developed by Dr. Simeon Wall Jr. of Louisiana. The acronym stands for a three-step process used during surgery: fat Separation, fat Aspiration, and Fat Equalization. The process can be used to remove excess fat around the waist and stomach, knees, thighs, arms, and neck. SAFELipo™ is an
effective technique in primary liposuction cases, but also offers opportunities for patients who have had prior liposuction procedures result in contour irregularities. The Separation stage isolates body fat so that during the Aspiration stage, the fat can be removed more quickly and with greater ease. With the SAFELipo™ technique, a much smaller cannula can be used to remove (aspirate) the isolated fat, generating only mild trauma and resulting in less risk for damage to the surrounding tissue.
At his St. Louis plastic surgery, Dr. Copeland says the SAFELipo™ concept offers a variation of traditional liposuction techniques that utilizes a different philosophy and instrumentation to achieve better results and solve some otherwise difficult issues. The final stage of the process, Fat Equalization, is when remaining fat is mobilized to create a smooth and natural look for each individual patient. Whether a patient is considering liposuction for the first time or is in search of a way to repair irregularities from a past procedure, Dr. Copeland believes the SAFELipo™ concept is an innovative step forward in liposuction technology, adding that he has incorporated the approach to give his patients all of the benefits and results SAFELipo™ has to offer.
About Jeffrey G. Copeland, MD
Dr. Jeffrey Copeland is a board-certified plastic surgeon who has been practicing in the St. Louis and St. Peters areas for many years. He is on staff at multiple area hospitals. He attended the University of Missouri, Columbia, where he completed his undergraduate degree in premedical science, attended medical school, and completed residencies in general and plastic surgery and a fellowship in microvascular surgery. He was a chief resident in both general surgery and plastic surgery. Dr. Copeland has been president of the St. Charles-Lincoln County Medical Society, chief of staff at St. Joseph Health Center, and president of Plastic Surgery Consultants, Ltd. He is currently on the board of Primaris (the Missouri Quality Improvement Organization) and was board chair of that organization in the past, immediate past chief of staff at Barnes Jewish Saint Peters Hospital, past president of the Missouri Association of Plastic and Reconstructive Surgeons, councilor to the Missouri State Medical Association from the 4th district (now council chair), and a member of the Board of Directors of the St. Louis Crisis Nursery. Dr. Copeland established Copeland Cosmetic Surgery in 2005.
To contact Copeland Cosmetic Surgery, visit their website at copelandcosmeticsurgery.com, their Facebook page at facebook.com/copelandcosmeticsurgery, or call 866-377-0288. The center's office is located at #2 Richmond Center Court, St. Peters, MO 63376, convenient to Highway 70 near exit 220 (Highway 79).