St. Louis Plastic Surgeon on Winter as the Season for Facial Resurfacing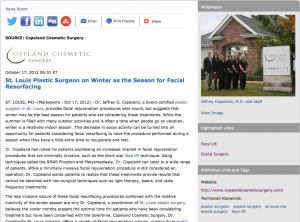 St. Louis, MO – Dr. Jeffrey G. Copeland, a board-certified plastic surgeon in St. Louis, provides facial rejuvenation procedures year round, but suggests that winter may be the best season for patients who are considering these treatments. While the summer is filled with many outdoor activities and is often a time when people go on vacation, winter is a relatively indoor season. This decrease in social activity can be turned into an opportunity for patients considering facial resurfacing to have the procedure performed during a season when they have a little extra time to recuperate and rest.
Dr. Copeland has noted his patients expressing an increased interest in facial rejuvenation procedures that are minimally invasive, such as the short scar face lift technique. Using techniques called the SMAS Plication and Platysmaplasty, Dr. Copeland can cater to a wide range of patients. While a minimally invasive facial rejuvenation procedure is still considered an operation, Dr. Copeland wants patients to realize that these treatments provide results that cannot be obtained with non-surgical techniques such as light therapy, lasers, and radio frequency treatments.
The less invasive nature of these facial resurfacing procedures combined with the relative inactivity of the winter season are why Dr. Copeland, a practitioner of St. Louis plastic surgery, believes the cooler months present the optimal time for patients who have been considering treatment but have been concerned with the downtime. Copeland Cosmetic Surgery, Dr. Copeland's St. Louis practice, offers a variety of facial rejuvenation options, ranging from eyelid surgery to endoscopic brow lift. No matter the season, he says most patients can resume their usual activities within a few days, and within a week or two, most surgical signs of the procedure have resolved. The advantage of having these procedures performed during the winter season is that during their recovery time, patients are less socially active and spend less time outside of the home, allowing for the patient to focus on rest, and if desired, confidentiality.
About Jeffrey G. Copeland, MD
Dr. Jeffrey Copeland has been practicing in the St. Louis and St. Peters areas for many years. He is a board-certified plastic surgeon who earned his medical degree at the University of Missouri, Columbia. During his time at the university, he also completed residencies in general and plastic surgery and a fellowship in microvascular surgery. He served as chief resident in both general surgery and plastic surgery during his tenure. In 2005, after gaining experience in plastic surgery in St. Charles and St. Louis Counties and partnering with Plastic Surgery Consultants, Ltd., Dr. Copeland established Copeland Cosmetic Surgery. Dr. Copeland is past board chairman of Primaris (the Missouri Quality Improvement Organization), president of the Missouri Association of Plastic and Reconstructive Surgeons, council chair of the Missouri State Medical Association from, and a former member of the Board of Directors of the St. Louis Crisis Nursery. He has been chief of medical staff at St. Joseph Health Center and Barnes Jewish St. Peters Hospital.
To contact Copeland Cosmetic Surgery, visit their website at copelandcosmeticsurgery.com or call 866-377-0288. The center's office is located at #2 Richmond Center Court, St. Peters, MO 63376. The center's Facebook page can be found at facebook.com/copelandcosmeticsurgery.