How to Get Rid of Puffy Under-Eye Bags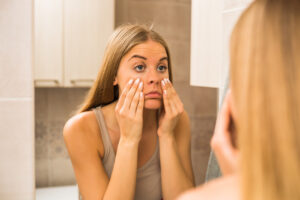 Even those who regularly get a good night's sleep and take excellent care of their skin may experience the development of "bagginess" under the eyes. These concerns are very common, and while lack of sleep certainly doesn't help matters, puffy under-eye bags are often the result of the natural aging process and/or hereditary factors rather than sleep deprivation. Certain skin care products may provide some degree of temporary improvement; however, they cannot resolve the herniated fat pockets that cause under-eye bags to form. In many cases, the most effective way to get rid of puffy under-eye bags is by undergoing an eyelid surgery (blepharoplasty) procedure.
Our board-certified plastic surgeon, Jeffrey Copeland, MD, can perform lower eyelid surgery to remove or reposition the excess fat that is creating the appearance of under-eye bags. Excess skin may also be removed, with the remaining skin smoothed out to create a firmer, more youthful and rested look. Lower eyelid surgery usually requires small incisions made near the lower lashes, which can yield virtually unnoticeable scarring. This treatment can be very effective on its own, or combined with upper blepharoplasty for patients experiencing concerns in the upper eyelids, as well.
Lower eyelid surgery can significantly rejuvenate the under-eye areas, dramatically reducing signs of bagginess with results that often last for years. During your initial consultation with Dr. Copeland, he will evaluate your skin and explain all aspects of the treatment process. If this procedure is right for your needs, Dr. Copeland can create a customized eyelid surgery treatment plan designed to achieve your goals.
If you have questions, or if you would like to schedule a consultation with Dr. Copeland, please contact us today.